How to Win Cryptocurrencies With Fire Faucet Tutorial
✓ How to Win Cryptocurrencies With Fire Faucet Tutorial
Hello family I have money, this time I bring you a faucet called Fire Faucet in which you will allow us to earn 9 types of cryptocurrencies. In the world of faucets there is the Autofaucet model this means that it allows you to automatically claim your ACP points.
Fire Faucet is a very special faucet tap where you will be able to claim cryptocurrencies by simply visiting sites, completing tasks, offers, link tasks, etc.
Fire Faucet is a page that has been open since 2018, it is a complete site where you can win 9 types of cryptocurrencies such as Bitcoin, Ethereum, Tether Dogecoin, Litecoin, Dash, Tron, Zcash and Digibyte.
≫ How to Register in Fire Faucet
The first thing we have to do is register on the page, this won't take long, and it's very easy. You will get 1000 ACP for free at the time of starting, ACP is the main currency that the platform pays us, later it will allow us to exchange them for another type of cryptocurrency 🙂.
The first thing you need to do is register, I'll leave the banner down here so you can get to work.
👇 The Page Registration here in the banner 👇
You have to put your email, username and password. By Last Press on "Create Account" Once completed, you will receive a verification email, verify and you can now access the platform.
◁ How The Fire Faucet Platform Works
In Fire faucet has a lot of sections to be able to win "Auto Claim Points" or ACP to shorten it, it is a virtual internal currency of the platform, it has many ways to win and I will tell you below:
✔

Faucet
This is a function that has the faucet in which it will allow you to win ACP every 30 minutes, means that you will come to claim every half hour. What you will do is correct a cap and then press "Get Reward" and it will offer you a number of points.
In addition you get some random activity points, you must collect a particular amount of them to earn more cryptocurrencies.
✔ Daily Bonus
This option is almost similar to the faucet, we have to do the same as in the previous one, the difference is that it is your daily bonus in which you will have to do it every 8 hours. This way you will earn more ACP and activity points.
→ Fire Faucet Task On Link
Another way Firefaucet allows you to win ACP is by tasking very short links. Just press an option of what is shown in the image above. To complete the task you must wait 10 seconds then it will redirect you to the desired website, and automatically your ACP will be entered into your main balance. The good thing about it is that you can have up to 50 places.
⇨ Fire Faucet Offerwalls
Offerwalls is one of the best options where you will earn many ACP for free and activity points by answering surveys, tasks, either downloading apps, even watching videos in the EngagedHits section, registering on other platforms, visiting more sites, etc.
For each offer you complete, you'll get a value of 10% of the value of the reward. Something very important is that some offers take time to prove in some cases up to 30 days. but they're instantly credited to you. Since they must be reviewed by advertisers, don't worry that if they give them to you 🤑.
⊛ Daily Task
This is a section so we can multiply our daily income. This feature will allow you to win ACP by performing tasks and objectives up to date. This list will restart every day.
🥇 Fire Faucet Visit Sites
This section is very good and everyone's favorite. Inside your "DashBoard" you will have to go and then you will see the sponsored sites that you can see, below each site you can see the reward they give you to view it and the amount of ACP that you will win. The only good thing is that you can win a lot of ACP.
🙂 Fire Faucet To Serve Activity Points
Activity points are used to determine your activity on the website, for example, the more you use autoclaim, complete bid walls, do link tasks, claim keys, or recommend friends, the more activity points you earn. The top 10 daily users who have the most activity points are rewarded!
With each level, your bonus also increases, which means you get more coins as you level up. I'll leave you up here the table of how much points you'll earn when you're leveling up.
✅ Fire Faucet Affiliates
it has a referral compensation plan which you can earn 20% commission on the winnings each user gets. It's easy to just recommend to family and friends, so you can increase your income within the platform.
🤓 Auto Faucet
Another section to win more ACP is automatically, In the image shows our points that we have in my case are 1,055, we must stick all 9 cryptocurrencies and once we do we must press the button of "Start Auto Faucet".
As I mentioned earlier, we have to wait all those minutes until we run out of our ACPs, in the example it is 1055 and the time that we have to wait is 1 minutes for us to give us fractions of cryptocurrencies, but for the whole autofaucet to run out they would be in total of 23 minutes. The good thing is that it is automatic and we can go to other pages while we wait for the time to 🙂.
In the image you can see that in 1 minute we will receive the satoshis fractions for each cryptocurrency automatically.
🤑 How to Convert ACP into Cryptocurrencies
We go on our Dashboards and find our points that we have accumulated, as mentioned above can be spent on the autofaucet but you can also give it another use that is to convert to cryptocurrencies. we have to press the "Convert" button.
🔥 Fire Faucet How to Withdraw Our Income
Now let's go to the final step and that's how we're going to withdraw our winnings. One important thing is that an equivalent of $10 dollars a day we can withdraw. you can do it in any of the 9 cryptocurrencies out there. we're going to press the "Withdraw" button from our favorite criypt.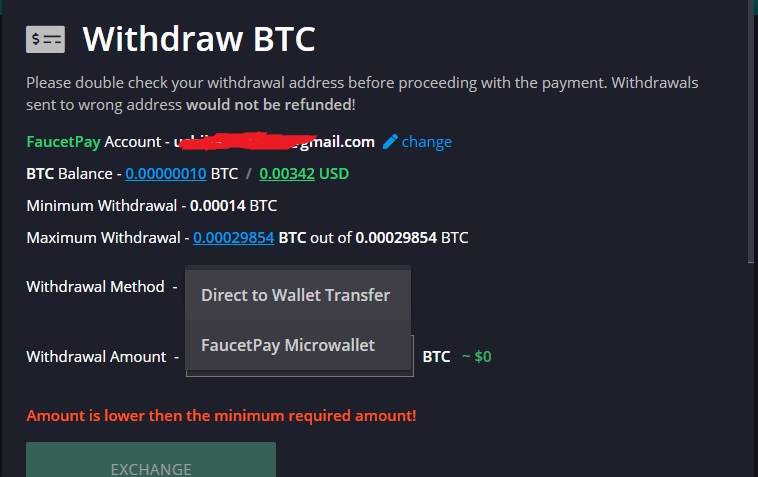 Then we will get the option to be able to withdraw, we can do it in FaucetPay and in any wallet you want. The minimum withdrawal in faucetpay is 0.00014 BTC And the withdrawal in another wallet is 0.0002 BTC. I'll leave you an article link to create your Faucetpay wallet if you don't already have an account.
💥 Membership
This platform offers you a membership to increase your profits and enjoy more benefits. Buy for 10 days to get a 10% discount, 20 days for 20% off and 30 days or more for a 30% discount.
💥 Page Features
Rating: ★★★★★
Language: Language: English, you can translate it into google chroom.
Accepted countries: everyone.
👇 The Page Registration here in the banner 👇
Platform Type: Cryptocurrencies.
Withdrawal method: 9 types of cryptocurrencies.
Minimum withdrawal: faucetpay is 0.00014 BTC And the withdrawal in another wallet is 0.0002 BTC.
Wallet you accept: Faucetpay and among other wallets.
Bonus: If you're going to get 1000 ACP.
👇 Video Fire Faucet